Well, it's been three weeks since my last post, due to the Christmas and New Year break, so I thought that I'd do a quick round-up of the past couple of weeks – which were just so lovely!
Here are our Christmas and New Year highlights:
1. 18th December – a Christmas meal with friends from the village in which we used to live. It is always good to catch up with them and we had a delicious Christmas meal.
2. 19th December – the pantomime, Aladdin, at the Birmingham Hippodrome. This was absolutely amazing!! I have not laughed so much in a very long time, and I have seldom seen the children laugh so much either. The performances were fantastic, especially by my favourite Lee Mead, Matt Slack who played Wishy Washy and also Widow Twanky. Julian Clary was, of course, hilarious, and Marti Pellow made a pretty good "baddie", and the 3D section was incredible. An absolutely brilliant night!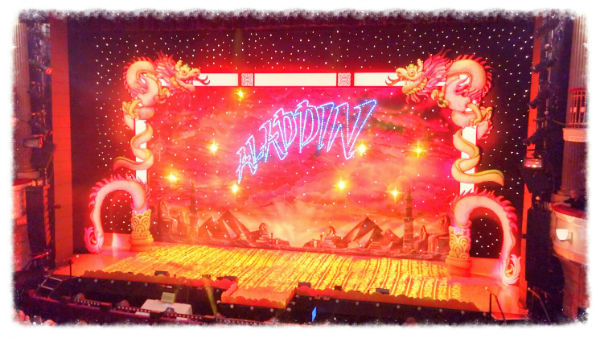 3. 20th December – our annual "present swap" at my sister's house. As we were not going to see each other on Christmas Day this year, it was even more important that we got together to catch up, eat mince pies, drink mulled wine and swap presents – a lovely afternoon.
4. 21st-23rd December – a lovely, relaxing few days with the children, doing little apart from playing games and watching Christmas films – perfect.
5. 23rd December – another meal out (we had had one before seeing the pantomime in Birmingham) before a theatre trip, this time to see Cinderella at Derby Theatre. This wasn't a panto, but a re-telling of the story by the mice, and it was brilliantly done, so another very lovely evening.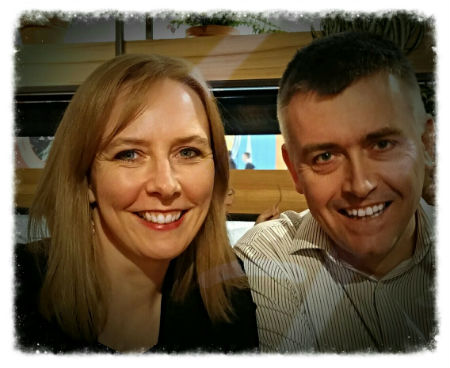 6. 24th December – the Christmas Eve service at Derby Cathedral, which was so nice – it's a very traditional service, with plenty of opportunity to sing the old carols, so we love this. This was then followed by a roast turkey dinner at home, finished off with roast chestnuts in front of the fire.
7. 25th December – as usual, Christmas Day was enjoyed by all. We were all very lucky with the presents we received – my new wax jacket and Hunter wellies have been put to very good use plenty of times already. We had a Caribbean-themed lunch – lime and ginger marinaded seabass, sweetcorn fritters, spicy ribs, jerk burgers and saffron rice, followed by pineapple upside down cake. D's parents arrived late morning, so we ate together then spent the afternoon mainly playing the new games we had received – Family Fortunes, The Logo Game and Suspend – lots of fun. The day was nicely finished off by a couple of hours in front of Downton – a great end to a lovely day.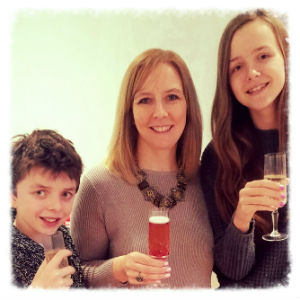 8. 26th December – we went for a lovely walk at one of our favourite places, Calke Abbey, on Boxing Day. Plenty of other people had had the same idea – I've seldom seen it so busy – but we had a great walk and blew the cobwebs away!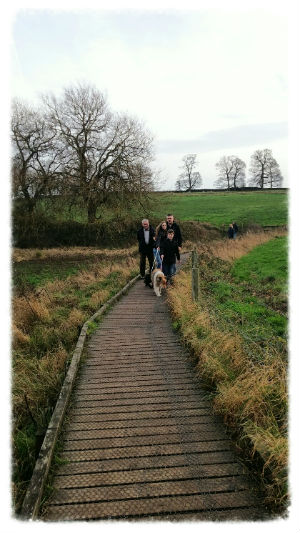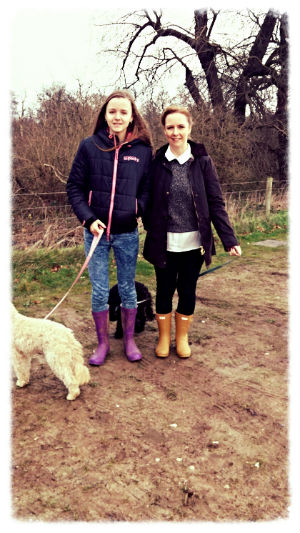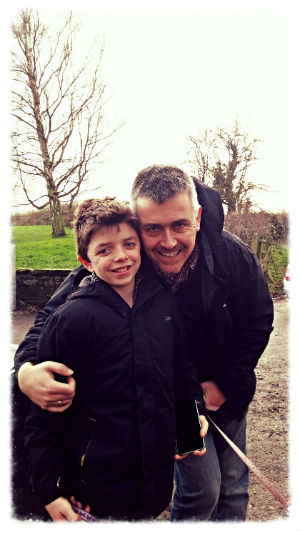 9. 27th December – after D's parents had left, we had a family trip to the cinema, which was part of B's Christmas present to us all. We saw Daddy's Home, which was really good – not too silly, but very funny.28th December – we went to visit one of my sisters in the evening, for canapes and games. Again, this was another evening absolutely full of laughter – Pictionary, Charades and Articulate this time – hilarious!
10. 29th December-2nd January – we headed off to our house in Norfolk for a few days. Although the weather certainly wasn't Christmassy, we got a couple of good walks in while we were there – which we needed to counteract all the cheese, snacks and wine we were consuming!
11. 31st December – we had a great New Year's Eve, with some of my university friends who made the journey down to Norfolk to celebrate with us. We had a walk at Holkham Hall in the afternoon, followed by an "old school" meal of cottage pie or fish pie with vegetables, then two different types of fruit crumble and custard – accompanied by plenty of wine, of course! We then played yet more games (a definite theme this year, even more so than usual!) of Family Fortunes and Obama LLama (my favourite new game!) until midnight, which we toasted in with champagne and a round of Auld Lang Syne. A really fun night!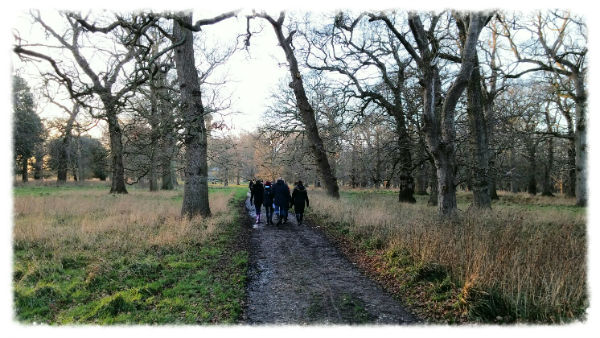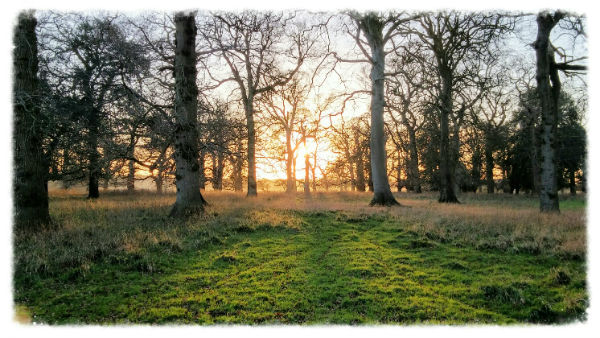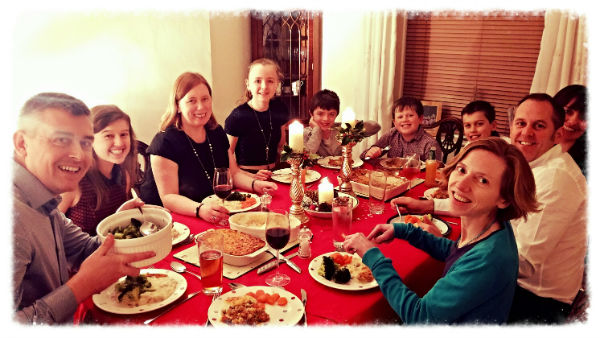 12. 1st January – we all felt pretty good the next day, which was fortunate as we had a New Year's Day brunch booked at Creake Abbey. This was just what the doctor ordered, starting the new year with a full English breakfast – we really didn't need that much more food, but it was delicious!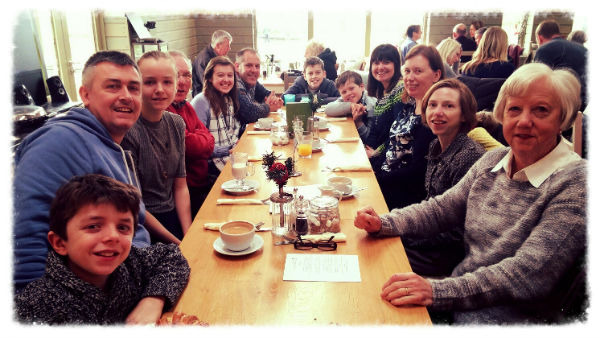 And that was just about the end of the Christmas/New Year bubble which we'd lived in for two weeks. It really is my favourite time of year – full of lots of time with family and friends, plenty of food and drink, and the opportunity to switch off from the real world for just a couple of weeks. The only sad thing is how quickly it went  – and that it is now over for another year. I'd love to have that time all over again – but the memories will have to suffice for now.
A huge thank you to all our family and friends for sharing this special time – and Happy New Year everyone!