September already? How did that happen? I guess it was something to do with the busy summer we had – it's definitely up there as one of our best. The combination of our holiday in paradise, the success of the French exchange, weekends in Norfolk and at Carfest, along with plenty of day trips, relaxing time at home and catching up with lots of friends, has made this summer so special, and one that we will remember for a long time.
Here are some of the highlights of the final week of the holiday:
1. We spent last weekend, as we have done for the past four years, at Chris Evans' CarFest South festival. If you don't know about this, it is a fabulous, family-friendly festival based around food, cars and music, with all proceeds going to Children in Need. It is held in the beautiful Hampshire countryside, at Jody Scheckter's Laverstoke Park Farm, and we always have the most amazing time – so the pressure is always on D to try to buy the tickets for the next one as soon as they go on sale, as it generally sells out within 15 minutes! We had as great a time as ever this year, so there's no let up for him!
2. We have tried various accommodation experiences during our four visits to CarFest. The first year we camped, the second we glamped, and last year and also this, we stayed in a nearby hotel. This is definitely my preferred option! This year, we stayed in a hotel in Basingstoke, which fitted the bill perfectly – it was an easy 20 minute drive from the festival site, was clean and comfortable, and had extremely friendly staff – all good!
3. As I said, one of the main aspects of the festival is the food. There is a Best of British marquee, which contains lots of stalls selling homemade produce, and has different demonstrations going on, whilst a lot of the site is taken up with stalls selling all sorts of food to keep you going throughout the weekend. You can get anything from pie and chips to curries, from burritos to churros, from Thai food to paella, etc., etc. – the choice is huge. My selections this year were a duck wrap on Friday, followed by pie and chips on Saturday, then roast chicken and potatoes on the final night. And we may have sampled a cheeky bag of gourmet popcorn at some point!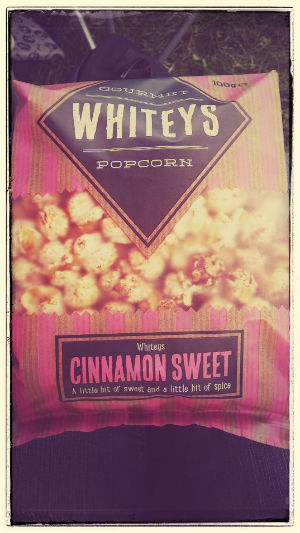 4. As well as the food, there are obviously drinks, and our favourite this year, making an appearance for the first time, was the Fever Tree Gin and Tonic stall. It did prove so popular that it constantly had a long queue (I did feel a little sorry for the Pimms stall next door, which was virtually empty for the whole weekend!), but it was worth queuing up for! My favourite drink was rhubarb gin with Fever Tree ginger beer – absolutely delicious.
5. The music was great again this year. Obviously we know some of the bands/artists better than others, but amongst our favourites this year were Sophie Ellis Bextor, The Feeling, Paul Heaton and Jacqui Abbott, Bellowhead, and of course, the final two hours were absolutely amazing, with Take That, followed by a performance by Lord of the Dance, ending with a huge firework display. Just brilliant!
6. The final aspect of the festival, which is clear from the name, is the cars. There are car displays all around the site, ranging from stalls from manufacturers to old vehicles in the Vintage Village area, and then with some incredible cars to see both in the paddock and on the hill climb – classic racing cars, stunt cars, Chris Evans' Dirty Dozen, Chitty Chitty Bang Bang, etc. I'm not overly interested in cars as a rule, but I love to see them here, especially in action on the hill climb.
7. One of the things that makes such a huge amount of difference to a weekend like this is the weather, and we were incredibly lucky. There was some rain for an hour or so on the Saturday evening, but we had fortunately positioned ourselves under a shelter, so were fine and dandy, and then there was a brief shower on the Sunday evening, but, by the time we had got our coats and waterproof trousers on, it had stopped! It could have been very different, both during the day and the evenings, and we were very aware of this as it rained all the way home on Monday!
8. We were lucky enough to be able to fit in one more swimming trip on Tuesday, amongst the chores of collecting new glasses for B, having his back-to-school haircut and packing, which was really nice. We took one of G's friends and her sister, and they all had fun together.
9. Wednesday was the day we had been dreading for a while – taking B to his new school, where he is now boarding. However, the day went very smoothly and quickly, and there were no protracted, emotional goodbyes! B being B, he said goodbye with plenty of hugs, then just ran back into the building, so we didn't have the time or opportunity to  get upset, which was a really good thing. We could have stood there hugging and crying, but it would have made us all feel so much worse, so the way it went was probably perfect. It would be good if he communicated with us to let us know how he's getting on though!
10. So now it's back to the routine of a new school year – obviously it's a little different with B being away, but G was back at school on Thursday too, so it was a return to early mornings, school, work, back to walk the dogs before the afternoon school run, and straight back to piano lessons. Even though we have had an amazing summer, I do always quite like getting back to normal and having our routines, so it's no bad thing.
So G and I have my niece's hen party to look forward to this weekend, which should be lovely. I hope that you all have a great couple of days.