Wow – after a nice quiet weekend, it's turned out to be a pretty busy week – but all in a good way! And we can certainly say that we are enjoying the summer holidays! Here are some of the highlights from the past seven days:
1. Possibly the best part of our weekend was our trip to Elvaston Castle Country Park on Sunday. It's quite ridiculous that I have only visited this once, and that was only for a food fayre over a year ago, but it appeared in a list of local woodland that I researched after G asked if we could go to a wood, so off we went. We started the trip off with a lovely picnic (of course – I absolutely love picnics!) of sandwiches, watermelon and freshly baked peanut butter and chocolate chunk cookies, which we then followed by a walk around two separate parts of the park. It really is a lovely place to spend some time, with plenty of space to walk the dogs, interesting areas for the children to explore and nice scenery along the way – a very successful trip.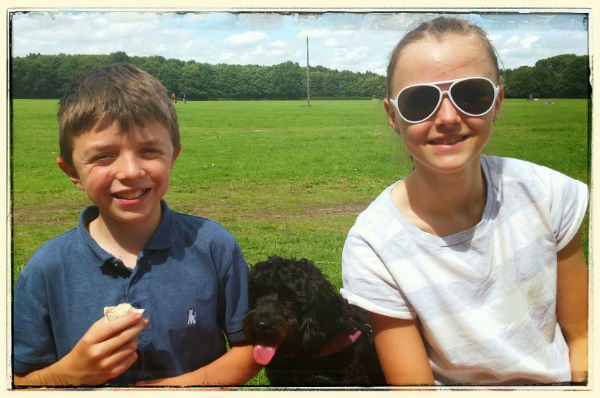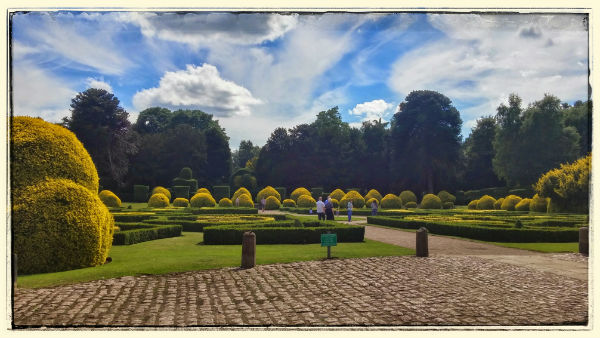 2. Our wedding anniversary, which D and I celebrated on Monday. It's very difficult to believe that it's 19 years since that amazing day, but I still feel so blessed that we found each other so early in life, at the ages of 17 and 18 respectively, and that we got married as soon as we could after university. We had a very special evening, exchanging our presents, having a lovely meal, and making and drinking our new favourite drink of mojitos. We are definitely on the same wavelength – I had bought the ingredients for making them, whilst D had bought me a mojito-making kit as part of my present, and we then both bought the same cheese to eat after our meal – what a team!
3. Getting my work done. It is always a challenge during the school holidays to fit in the work that I have to do around spending time and days out with the children, but I have had two good sessions this week, which has allowed me to catch up fully after our holiday.
4. One of our great discoveries for a summer holiday activity this week has been swimming. We went along to the local pool to begin with, but found that it was full, and they couldn't guarantee that we would get in at all during the session, so we then went on to the gym where we are members but very rarely go, and certainly not to swim – for some unknown reason! However, it was fabulous – G and B went in the water, whilst I stayed on the poolside, on a lounger, reading my book and watching them. It really felt like we were still on holiday, which is definitely a feeling that I wish to prolong, so there will be plenty more visits!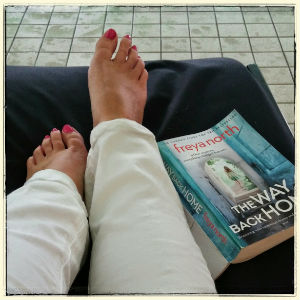 5. Tuesday saw the arrival of our two French exchange children, who are the same ages as G and B, and who are with us for nine days. We were all a little apprehensive about meeting them and having them to stay, as we had never met them, and had no clue as to their English proficiency, but they are absolutely lovely. They are great children, get on well with G and B, and are trying hard with their English – a real success, three days in!
6. Out trip to West Midlands Safari Park. I could say that this brought back many memories, as this is the safari park that I used to visit as a child when I lived in Worcester, but I have to say that it wasn't at all familiar. However, it was a great day out, and a good ice breaker for the children and their French counterparts. It took a while to get there because of traffic and it was busy inside the park, but it was great to see the variety of animals up so close – rhinos, deer, antelopes, two types of tiger and lion, giraffes, wild dogs, lions, zebras, camels, etc. We will definitely be using our return free ticket, so that D can come too.
7. Successful swimming and shopping trips on Thursday for all the children. They are getting on very well together, and it's great to see them managing to communicate and have fun.
8. Simple pleasures for the children, including playing hide and seek in a fantastic area of Elvaston Country Park (which we visited again on Thursday!) which was just made for such a game. It's so nice to see 14 and 12 year olds still loving the challenge of the game, aided by walkie talkies, and surpassing any language barriers along the way.
9. The French boy who is with us made my day yesterday when he told me that my French is very good. I did spend 9 months living in France, but that was 20 years ago and I have not really used it since, so I didn't have much confidence in it, but it was very nice of him to say so (and to say that it was the truth!). To be honest, I have really enjoyed speaking it again, and it has really helped this week, as neither G and B's French nor our guests' English can cope with everything just yet.
10. The prospect of a few days in Norfolk – we haven't been for over three months, which is crazy, so we are really looking forward to it, and to being able to introduce the French children to the amazing beaches, the beautiful countryside, and one of the Queen's residences along the way!
I hope that you all have a great weekend!