Well, I'm not sure where the past nine days, since our French exchange children arrived, have gone. As we said goodbye to them yesterday, it was very strange to think that the time had passed so rapidly, but they seemed to have been a part of our family for a long time, which was lovely.
Here are the highlights of the past week anyway:
1. The tie dye activity we did one evening with the four children. This was incredibly messy, with the dye getting literally everywhere as they dyed t-shirts, pillow cases and canvas bags, but it was also such fun. They all seemed to enjoy it and were pleased with their efforts, and it was great to see them all wearing their t-shirts together the next day (and all the mess was very easily wiped up!).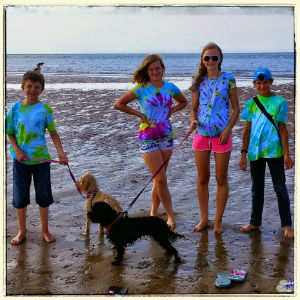 2. We had a lovely few days in Norfolk, which started off with a great trip to Brancaster beach on our first afternoon. The puppies had a good swim in the sea, and we then walked along to see if the seals were there, and they certainly were – in force! We couldn't go as close as normal, as they are currently breeding there and have babies, but we could get close enough to see them all basking on the sand very clearly – an amazing sight, as always.
3. It wasn't just the dogs in the sea the next day, as the weather was glorious, so all the children went in for a proper swim. I'm not sure that you would have got me in there, but they seemed to love it and have lots of fun.
4. We had a lovely walk around the lake at Holkham Hall on Sunday, which we always love to do. The weather was beautiful, so everywhere looked stunning.
5. We had another fun day on Monday when I took all the children swimming and then bowling. The bowling was in a very "quaint" establishment, but it did the job and kept the children entertained.
6. A trip to Sandringham. Shockingly, we have only visited Sandringham once, and that was just for a walk, so we haven't ventured into the house before, but I thought that this would be a good place to take our French visitors. We were very lucky in that, when we went in and I asked for a French translation of the guidebook, the lady serving asked if I'd like her to talk to the exchange children, to tell them about the rooms we would visit, as she was the French-speaking guide. What luck! She gave them a good overview of what to look out for, which was great – I understood everything that she was saying but there's no way that I could have explained it all myself, so it was a very successful trip.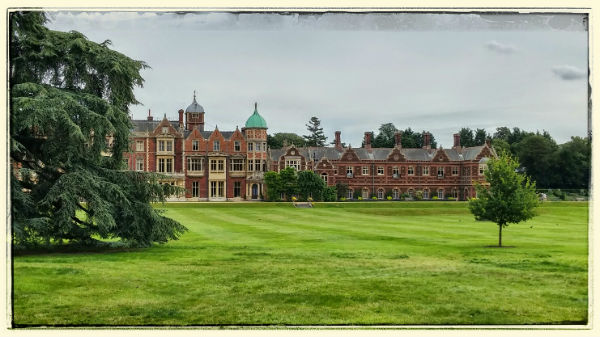 7. We did one of our favourite walks on Wednesday, from Holkham along to the beach, past the brightly-coloured beach huts, to Wells-Next-The-Sea and then back through the pine woods. Again the weather was beautiful, so it was so lovely.
8. It was nice to get home again on Wednesday evening to see D. He'd been with us until (very early!) Tuesday morning, but it was still good for us all to be back together – and to celebrate with a mojito!
9. Watching the meteor shower. We all had a quick trip outside at about 10.30pm to see what we could spot, and were lucky enough to see at least four shooting stars each. The children chose to lie on the trampoline for the best vantage point, and we learnt that it is a French custom to make a wish whenever you see one.
10. The French exchange has gone so well – better than we even hoped. Not knowing the children or the family, we didn't know if they would get on well or not, or if they'd enjoy doing similar things, etc., but they all got on famously together. The house has been absolutely full of fun and laughter for the past week, so they are now all looking forward to when G and B make their visit next year. They are such lovely children – so polite and helpful and fun-loving, that it has been a complete joy to have them stay with us – and a great excuse for lots of fun trips out!
So we are now looking forward to a nice quiet, family weekend. I would guess that a trip to the gym/swimming pool and a picnic/walk will feature, but that is as far as the planning has got. Oh, and giving my brain a rest from all the translation I have done in the past nine days!