Well, I'm hoping that this turns out to be a "happy Friday" as it's my birthday! I have very little planned for today, which I am very excited about – a complete "day off", so no work, no food shopping, no housework, etc. – what a treat! Then we are going out for a meal tonight, just the four of us, so that will be lovely.
Anyway, here's what has made me smile this week so far –
1. D and I worked hard in the garden last weekend and we are so pleased with the results. I will probably blog about this later but, in a nutshell, over the past couple of weeks, we have done lots of "tidying up" – weeding, mowing, strimming, power washing, painting fences, having trees removed, re-gravelling, etc. – and we finished this project off at the weekend, with the main aim being sorting out the area for the firepit!
2. The firepit – what a fantastic purchase! We used this last Saturday and Sunday and it was so great. We are beginning to think that we are a little obsessed with fire, being that we lit the woodburner every single night of the winter, and now are loving this! It meant that we had two lovely family evenings, all together, outside, with no screens, toasting marshmallows and baking potatoes (wow – they were AMAZING!).
3. Never mind Happy Friday, I met "Happy Tuesday man" earlier in the week! It was a beautiful sunny day, and I was walking the two puppies (Tilly was on bed rest with a  sore leg!) when a man, with a gorgeous border collie, walked past, smiled and just said "Hello, you three. Happy Tuesday!". It put such a huge smile on my face!
4. I have managed to find two perfect picture frames this past week, which I've been looking for for a while, one for a beautiful word-art that Georgie made me for Mother's Day, full of the most complimentary things possible, and the other for a painting we have of the church where we got married. We had this hung up for years, but haven't put it up since we moved last year, as I decided that the frame didn't do it any justice and was frankly pretty old-fashioned, but it now looks lovely in its new, white, triple-mounted frame in the dining room.
5. Talking of which, the dining room re-decoration is now complete and we are so thrilled with the results. It is so much lighter and brighter, the tiled floor is fabulous – and you should see our rather quirky light fitting!
6. Considering how new my blog is, I've been really happy with the visitor statistics I've been getting. Having hundreds of visitors has never been the aim of it, but it's still very gratifying to see that lots of people are reading my ramblings and leaving lovely comments. The other aspect that has made me very happy this week though, is that one of my posts from a few weeks back, on Sibling Love, has been featured on two other websites – www.theguiltfreeguide.co.uk and www.post40bloggers.com which is pretty thrilling to see!
7. Nothing really specific but, following on from a pretty rubbish week last week, this one has been a whole lot more positive  – definitely something to smile about!
8. I hosted a really lovely birthday meal last night for two of my sisters and two of my closest friends, and it was such a great evening. I made a Strawberry and Basil mocktail to drink, which was very tasty, then we ate Fig and Parma Ham Salad, followed by Pistachio and Lavender Salmon with Salmoriglio Potato Salad and Samphire, Asparagus and Bean Salad, then Meringues with Lemon Curd and Strawberries to finish. Conversation flowed about all sorts of things – books, films, theatre, children – and it was 11.30pm before we'd even thought to look – surely the sign of a good evening.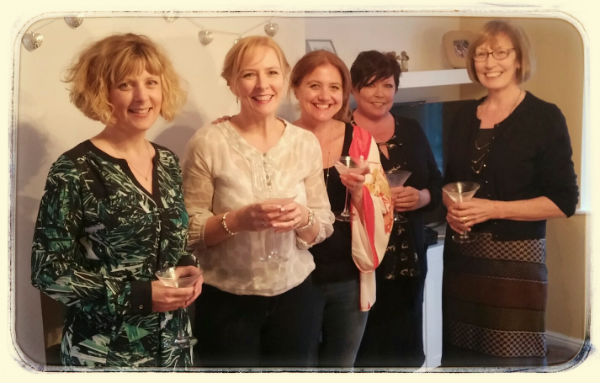 9. Do you have any idea how hard it is to find figs?!? Well, I certainly didn't until this past week! I decided that I wanted to do a Fig and Parma Ham Salad for the starter for my birthday meal, but could I find figs? No! I visited two different Sainsburys four times, only to see a huge blank space above the figs label, which was an improvement on Tesco and Morrisons, which didn't even have a space for them. Luckily, M&S to the rescue – a quick trip there yesterday proved fruitful (ha – see what I did there?!?) and figs were eventually located and bought. Parma Ham Salad wouldn't have been quite the same!
10. So, as I may have mentioned(!), today is my birthday, so I am very happily looking forward to my lovely relaxing day, followed by a family meal out tonight, then a university friends get-together tomorrow. It's not easy for the five of us who shared a house at uni and have stayed very close friends to all meet up, as Emma has only just returned to England after living in Europe for ten years, whilst Helen has spent the last few years in Paris and then Jersey, and is soon leaving for Hong Kong, so it is always a really special occasion when we can all spend some time together.
So, that's pretty much my week in a few points. What has made you happy this week?