Well, I'm guessing that this is going to be one of the easiest Happy Friday lists to compose, considering that we have spent the past three days in paradise, on the beautiful island of Grenada in the Caribbean. This is our fourth visit to the island – once before we had G and B, in 1999, and then three trips in the past four years.  It seems to be relatively little-known in the UK, in comparison with many of the other Caribbean islands, and is often confused, when we say where we are going on holiday, with Granada in Spain. It is also known as the "Island of Spice" because of the production of nutmeg and mace, of which it is one of the world's largest exporters, and this, along with tourism, is its main trade.
It is a small island, full of lovely, friendly people, and our hotel is no exception – the staff are so attentive, which adds to the experience enormously. Anyway, we are three days into our stay here, so here are some of the highlights so far:
1. The first great thing happened before we left home, with the arrival of Debra, who is staying in our house and looking after the three dogs whilst we are away. She is so lovely, and we couldn't feel happier leaving them in her care. She is also great at putting photos of them on Facebook, so we can keep track of what they are up to.
2. The Virgin Atlantic experience! We have flown Virgin on each of our visits here, but this year, the flight seemed even better than previously. Due to the fact that we fly out quite early in the morning, we always travel down to Gatwick the afternoon before and go straight to Twilight Check-In, which is such a great idea – it means that we check-in and our luggage is taken away immediately, when there are never any queues whatsoever, so that, the next morning, we just arrive at the airport with our hand luggage and go straight to security. We then had plenty of time for a lovely breakfast, with mimosa cocktails for me and D, before boarding. The flight itself was then great – the additional elements this year were a bottle of water waiting for us on our seats and we then, later in the flight, got an extra drink. The entertainment was great – the film that I'd really hoped would be on (The Second Best Exotic Marigold Hotel) was, so I was delighted by this, and there was plenty to keep us occupied all the way to the Caribbean.
3. The welcome we received as soon as we stepped out of the airport. A familiar taxi driver was waiting for us and welcomed us back to the island, and then drove us to the hotel (Grenadian by Rex Resorts)- a full five minute journey at the very most! We were then greeted so warmly by the hotel manager and reception staff, who welcomed us back with such enthusiasm (and with cool flannels and fruit punch!) – we had been looking forward to arriving for so long,  but this really did make it feel even better to be back.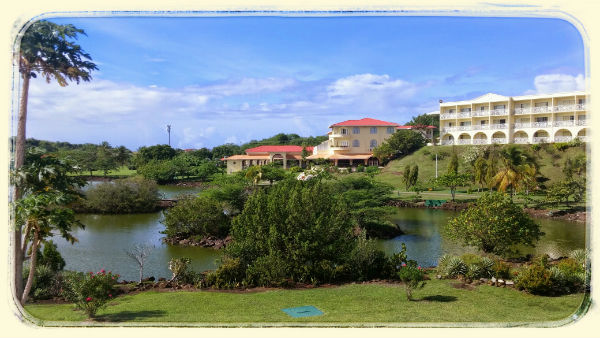 4. Our accommodation in the hotel, having been upgraded to executive rooms. We knew that we would have more space this year anyway, as, for the first time, G and B have their own room, so we don't have their two beds squashed into ours, but both of the rooms which we were allocated were much more spacious than we are used to, with a large bedroom, bathroom, living room area and extra large balconies. And a kettle – so that I can have my morning cups of tea!
5. The service we are receiving in the restaurants is absolutely fantastic. We have never had any complaints about the service previously, but there is a really noticeable difference in the standard this year. There are a lot of new staff, many of whom are very young, but the restaurant manager is the same and is clearly doing an amazing job of training them. They honestly can't do enough for you: they introduce themselves at the start of the meal and explain the menu options; they keep you constantly topped up with ice cold water; crockery is cleared away as soon as it is finished with; they serve you drinks immediately and ask if you'd like more as soon as your glass is empty, etc. etc. This morning, G spilt some tea in her saucer and our waiter replaced it with a clean one straightaway, almost before we'd noticed she'd done it. Just fantastic!
6. Doing very little! We have been looking forward to having this time time to relax and recharge our batteries for a good few months, and that is exactly what we are doing. It's so nice when the most difficult decision you have to make is what to order from the bar!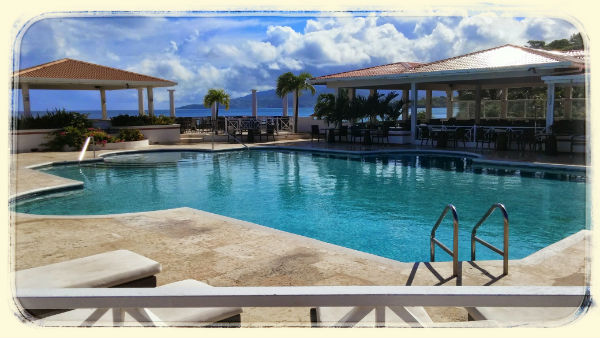 7. The food! Much as I enjoy cooking, it is such a treat to have a break from it and know that we are going to be presented with a range of delicious options three times a day. The breakfasts are possibly my favourite meal, with a range of cereals, two types of porridge, freshly cooked pancakes, French toast and omelettes, a selection of cooked options, often including local specialities, toast, pastries, fresh fruit, yogurt, and a selection of juices, tea, coffee, hot chocolate and speciality teas (yesterday's cinnamon tea was particularly good). The lunches and dinners consist of soups, a range of fresh catch of the day, delicious meat dishes, rice dishes, vegetables and salads – we have honestly put on so much weight already – but are loving it.
8. The views! As you can see from the photos, the views are absolutely spectacular. I always wonder if Grenadians realise what an amazing part of the world they live in  or if, as is usually the case, you get so used to your surroundings that you begin to take it for granted. Even on our fourth visit, we continue to be blown away by the scenery.
9. Having time as a family to properly relax – not to be rushing around or getting stressed or anxious about things, but just lounging by the pool together, playing in the water, sharing lovely food, etc. – bliss.
10. The weather – obviously it is very hot here, about 30 degrees every day, but we also seem to get a short rain shower almost every day. They don't last long, but really freshen everything up, clear the air, and are vital for the beautiful grounds that our hotel is in, with the gorgeous flowers, plants and trees.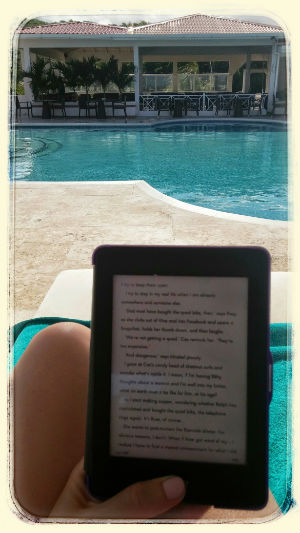 Yep! It was quite easy to think of these things, and next week will probably be very similar, but we have got a fishing trip, a day out, and a trip to our favourite Caribbean bar, The Aquarium, to look forward to, so no doubt they will feature.
I hope that you have a great weekend, whatever you are doing.