Wow – it's Friday again already – that means it's six weeks since the children finished school for the summer holidays and only one and a half until they're back – it's going far too quickly. With this in mind, we are definitely trying to make the most of our time together, so here are the highlights from the past week:
1. One that I forgot to mention from last week was the beautiful sunset that D and I enjoyed whilst we were in Norfolk. We sat in the back garden, overlooking the dense cornfield, glass of wine in hand, just watching the sun set. It actually went down pretty quickly – not as dramatically as a Caribbean sunset, but quicker than we expected nonetheless – and it was absolutely stunning. We are going again this weekend, so I'm hoping that we can repeat the experience.
2. We had a great family swimming trip on Saturday, with the complete luxury of having the pool to ourselves for most of the time. It just happened to be lunchtime when we had finished so we decided to eat in the restaurant there too – I opted for the burger which went down very well!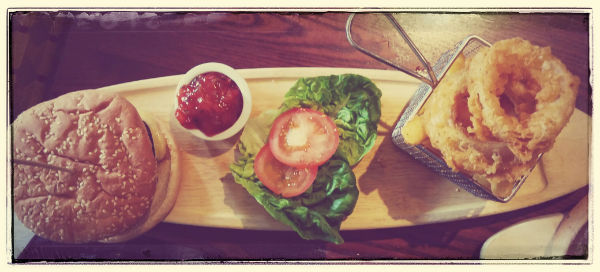 3. We enjoyed cooking together on Sunday, making pork with apples and tarragon. It was absolutely delicious – and all the better for having all made it together.
4. The children and I had a fun trip to Markeaton Park in Derby on Monday, with a jaunt on a pedalo followed by ice creams. It is so long since I've been on a pedalo that I'd quite forgotten the hard work involved, but it was great fun and involved lots of laughter – especially when B, who was steering, thought that it was hilarious to steer me into the overhanging trees!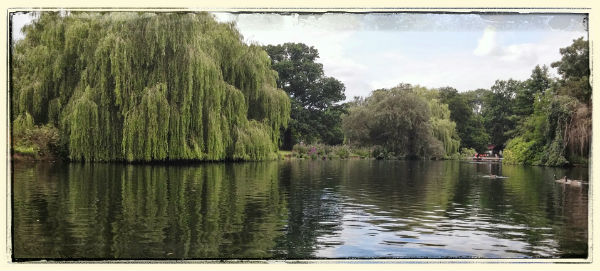 5. We are very lucky, being close to Derby, that we have so many lovely parks around, so on Tuesday we tried out a different one – Darley Park. This had been recommended to us a couple of weeks ago and it is absolutely lovely. It is a large, popular but peaceful park, with the River Derwent flowing through, providing a natural path to follow. So we had a lovely walk with the dogs, followed by yet more ice creams, of course.
6. The blackberries out on the field behind our house have made me very happy this week! Quite a lot of them are now ripe and are truly delicious – and the good thing is that there are still plenty which are no where near ready to eat, so they should keep us going for a few weeks!
7. We had a lovely trip to Carsington Water on Wednesday, which was special for two reasons. First, I had (ridiculously!) never been before – the children have both been with school – and it is a great place to visit. There are plenty of places to walk, the scenery is beautiful, there are playgounds, etc. etc. Secondly, however, and more importantly, we met my school friend, Sara, there, as she was staying nearby with her family. I haven't seen her in over a year, and she hadn't met G and B before, so it was really lovely to have a walk, picnic and catch up with her – and her gorgeous youngest daughter and her dog, of course! It was a great few hours – and we were even lucky enough to just get home before the rain began.

8. G and I had a "girls night" on Wednesday, which was so nice – and very relaxing! It involved spending the evening in her room, with her scented candles smelling amazing, watching re-runs of her favourite TV shows on her computer.
9. As we've had so many trips and days out this holiday, we decided to stay in on Thursday and had an afternoon of board games – with special drinks and snacks, of course! I'm so pleased that both children still enjoy afternoons like this.
10. One more positive thing this week is that B seems to be getting quite excited about his new school. As it is now only 12 days until he goes, this is really good news! He has been full of questions and curiosity about what it will be like, all in a very positive way, which is great, as it is going to be such a huge change for us all.
So, as I said, we have a lovely family weekend in Norfolk planned, which will involve spending plenty of time on beaches, walking, collecting samphire – all the usual. I'm just hoping that the weather forecast is right!