So, Friday is here again, and it's been a pretty quiet week – not that that is a bad thing! Here's a little round up of it: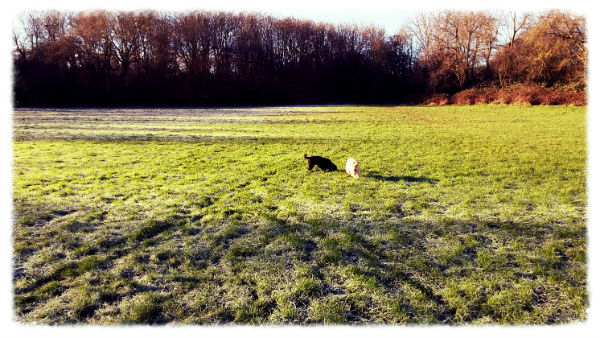 Eventually the rain, and therefore the field, dried up enough by the end of last week for me to be able to let the dogs off their leads to run around like crazy things! It had been a complete quagmire for the past few weeks, so it was a real treat for them – and so nice to see them having so much fun together!
Christmas may be well and truly over (four weeks ago already – what?!?) but fairy lights and candles are still being lit just about every night in our house – simply because they are so pretty. Love them!
3. Obviously a big highlight of the weekend was the snow! I do love it, but not when it disrupts work and school, so it was great that it came on Saturday night so that we woke up to these lovely scenes on Sunday morning – and then was all gone by the start of the working week – perfect!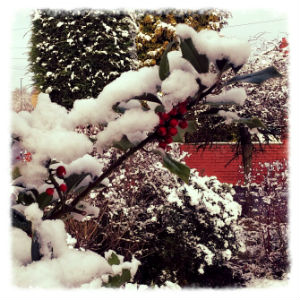 4. The cold snap in the weather has meant that the woodburner has been put to very good use this week, as we have lit fires every evening. Installing this is definitely one of the best things we have done to the house – by far!
5. I started my volunteer training at the hospice last week, and I'm really enjoying it. The first session was the foundation course, in which we were given lots of information about all different aspects of the hospice by the CEO and the directors in charge of the various areas – operations, clinical, retail, marketing, finance, etc. So interesting. This week's session was the first of the actual volunteers course, and it gave us a better chance to get to know each other a little more whilst discussing various questions and topics.
6. I believe that I have mentioned this one previously, but I am so grateful that my job allows me so much flexibility, as came into play on Wednesday when G was unwell at school and I had to collect her at 11am. An afternoon of sleeping on the sofa in front of the fire made her feel much better fortunately, but I was so grateful that I could collect her and carry on working at home without any difficulty.
7. There have been some stunning sunrises this week, especially on Tuesday. The photo really doesn't do it justice – it was possibly the brightest pink sky I have ever seen, which certainly helps to start the day off nicely!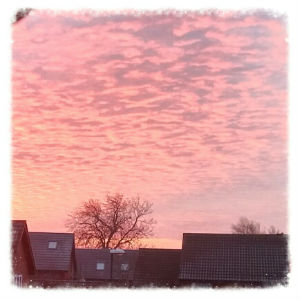 8. We may still be two months away from Easter, but I couldn't resist the hot cross buns on my way home from work on Thursday! A truly delicious lunchtime treat!
9. Tilly was trimmed yesterday, which always seems to put a real spring in her step for some reason, which is so lovely to see (as she is often a bit of a crotchety old woman!). It will mean she dries far quicker after our walks too, which is definitely a good thing.
10. Last one for this week – it's Friday and I'm going up to fetch B home for the weekend! Hurrah! We are all really looking forward to having some full family time together, so are very excited.
Have a great weekend everyone!