Wow – that's another week over, and the half term holiday (otherwise known as "revision week" for G) is upon us. The weather has been very mixed for the past week or two, so I have everything crossed for a better Bank Holiday weekend. Well, I can but hope.
In the meantime, here are a few of the things which have made me happy this week:
1. My birthday last Friday, including the day before it and the weekend following, when we met up with university friends, which I described in far more detail in my last post.
2. Dunking ginger nut biscuits into a cup of tea! I haven't done this for so long, as we don't often have ginger nuts in the house, but B found a packet last weekend and felt that they would aid his revision, so I did pinch a couple to dunk. They were sooo good – really took me back to my childhood!
3. Good books! I think I may do a review of the book which I finished on Monday (Fly a Little Higher by Laura Sobiech) and the one I am currently reading (Six Years by Harlan Coben) as they are both absolutely brilliant. They are so different from each other, but are definitely up there amongst my favourite books of all time. There's little beats finding a book that you just can't put down.
4. Puppy playtime. On our daily walk on Wednesday, I paused for a few minutes whilst walking through the wood (which I normally stomp through at a good speed!), and just let the puppies run around and play. I can't let Tilly off the lead anymore, as she has become more awkward and stubborn in her old age and doesn't come back very readily, but she was very happy just to watch them explore, sniff, dig, chase each other and rummage through the ferns. Having this break did mean that we then got caught in a heavy rain shower before we reached home, but it was worth it to see them having so much fun.
5. Having a very productive morning always makes me feel good, and I managed this on Wednesday, when I had to pop into Derby with a list of things to do and places to visit. So many ticks on my list by the time I got home!
6. One of the great things about my trip into Derby was that I went in early, straight after the school run, as I had an appointment at 9.10am. However, I arrived soon after 8.30am, so I just "had" to pop to Starbucks for a little treat – my favourite  – Chai Tea Latte (and, of course, more time to read my fantastic book!).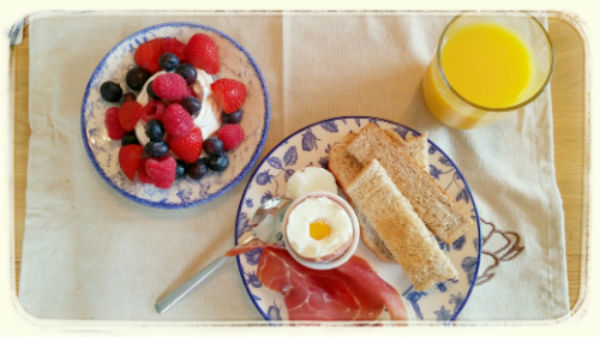 7. I've found a couple of opportunities this week to play the piano, which I really should do more often, as I love it when I do make the time, so I've enjoyed that a lot – especially when Lottie "sings" along – she is a very musical dog!
8. Because it is less than 60 days until we go on holiday, I have been able to reserve our flight seats for the outward journey this week, which is so exciting – it makes it feel much closer all of a sudden.
9. Following on from that last point, I then used some money which I had been given for my birthday to buy a new swimsuit for the holiday, which I'm really happy with. Just can't wait to wear it now!
10. The final one for this week will have happened by the end of today – B will have completed his end-of-year exams! Hurrah! No more revision for him, but also no more nagging for me and D to get him to do his revision. As always, he thinks that they have been "fine" – let's hope the results he gets back after the holiday reflect this!
Here's to a lovely, long weekend everyone – have a good one!