This week has certainly been much better than the last, thank goodness! I hope that you've all had a good one. Here are some of the highlights of mine: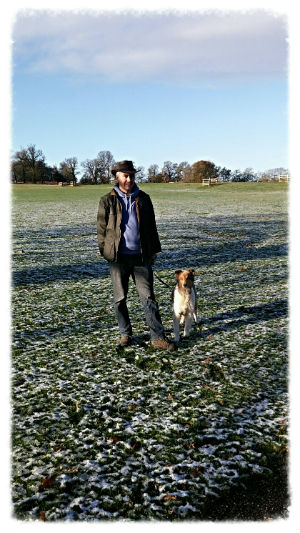 Last weekend got off to a fabulous start with an early morning walk at Calke Abbey. G was out early at a cadets training morning, so D and I set off with the dogs for a lovely wintry ramble – the sprinkling of snow on the ground, along with the bright blue sky and brilliant sunshine made it a very beautiful morning, so we had a wonderful walk, followed by a bacon cob and pot of Earl Grey from the tearooms at the end – perfect!
It might not be everyone's cup of tea, but I love "I'm a Celebrity" so am enjoying unwinding at the end of each day with an hour of this at the moment – I just love Ant and Dec! It always reminds me that Christmas isn't far away too, which is always a good thing.
I'm not sure how I have never heard this Christmas song previously, but I've come across it a couple of times this week, and absolutely love it! It is "The Man with the Bag" and it's great – I've even downloaded the music so that I can learn to play it on the piano.
Following our attempted break-in the other week, we had to have new patio doors fitted, as the mechanism was broken and was actually obsolete due to the age of the doors, so the replacements were completed this week. They are great – such an improvement on the old wooden ones we had, and they finish the all white dining room off perfectly now.
Tuesday was the day of G's grade 7 piano exam, and fortunately she came out smiling! It is such a relief for us all when these exams are over, as they require so much hard work, and seeing her coming out happy was definitely a good sign.
Wednesday was one of my favourite days of the year – Christmas shopping day!  We went to Intu in Derby this year, and had a pretty productive day – considering the amount of time we spend shopping compared to the time spent on coffee, lunch and chocolate stops. And the Prosecco with lunch was particularly good!
Due to the drop in the temperature over the past week or so, we have lit the woodburner several times, which we still love – it's so cosy to snuggle up in front of a real fire, you just can't beat it.
The flexibility of my work this week has been priceless, as it has been a crazy few days, with having the patio doors replaced, G's piano exam right in the middle of the day, Christmas shopping, then G off school for two days for Founders' and inset days – I am incredibly grateful that I can fit my work in around all these things by working from home when I need to.
I made my first batch of sugar-free biscuits this week -and they're really good! You can't tell that they don't have sugar in at all, as the honey and spices make up for it completely, so I was really pleased with them.
My final one hasn't happened yet, but B is home this weekend, as it is exeat weekend, so we are all really looking forward to seeing him. G won't spend too much time with him, as she is away on cadet camp, but we will try to make the most of our family time, which will be lovely.
Have a great weekend everyone!