Well, we are now back home after a wonderful two weeks in Grenada. I wasn't looking forward to the holiday being over and coming home, but it wasn't as bad as I expected – but I'm probably still going to find most of my Happy Friday list from our Caribbean experience!
1. The trip we had around the island last Friday was lovely. Our first stop was Fort Frederick, a backward-facing fort dating from 1791, which afforded amazing views of the Caribbean Sea, the Atlantic Ocean and the inland rainforest areas. From there, we then went on to Mount Carmel waterfall – it only required a short hike to reach the cascade and it was stunning.
2. Our final destination on our trip was to one of our favourite haunts on the island – one we have visited each time we have holidayed in Grenada, La Sagesse bay, where we had our customary burger and beer lunch – and admired the beautiful view.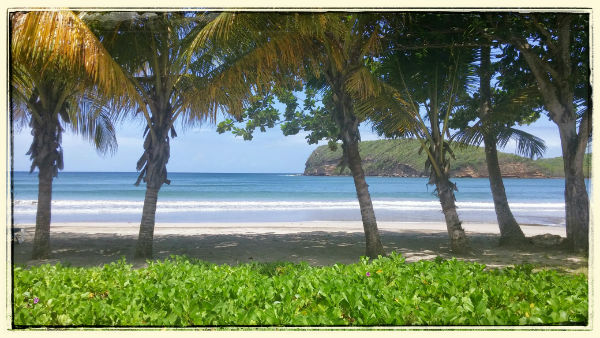 3. One of the best parts of the trip was eating the mangoes, picked fresh from the tree by Glenn, our driver, as we walked back from the waterfall – we just peeled the skin off and ate them like apples. By the time we reached the car, our hands and chins were absolutely dripping in mango juice, but they were honestly the tastiest, juiciest fruits we have ever eaten, and to do so in such an amazing setting was just incredible.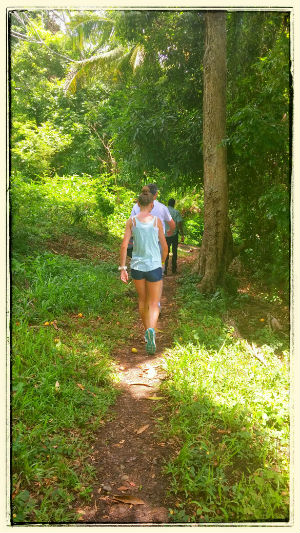 4. A band played in the hotel on Saturday night, so we again had a great dance in the lounge and the courtyard – another lovely evening.
5. On Sunday, we had our customary walk along the beach to the Aquarium bar for our live music and mojito fix – as great as ever.
6. Following this, we then went back to sit by the pool at our hotel, which overlooks the Caribbean Sea and from where you can watch the amazing sunsets. As this was out last night, we really made the most of it and sat there until it had gone completely dark – a wonderful family moment.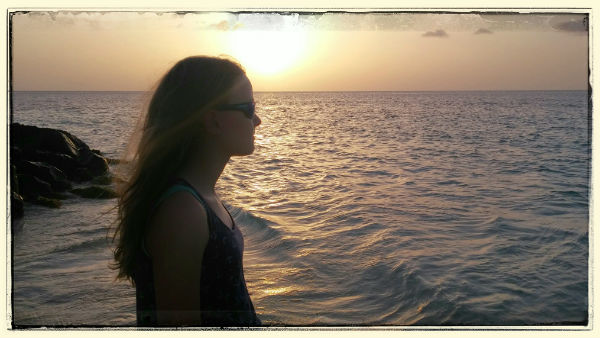 7. After all of this and the long journey back it was actually okay to arrive home, but it was made more palatable by the lovely meal that was waiting for us, prepared by Debra, who had been looking after the dogs and the house, and by the warm welcome from the dogs – we had missed them, so it was so good to see them again.
8. Sleeping in our own beds again – that's one thing that you can't beat after a holiday!
9. G and B enjoyed sleeping in their own beds again so much that they stayed in them for most of the next morning, so that by the time they emerged, I had had chance to do lots of washing and ironing, had weeded the garden, mown the lawn and walked the dogs – a very productive morning.
10. My really good university friend, Helen, visited on Thursday, and it was so good to see her. As she heads off to start a new adventure in Hong Kong on Monday, we don't know when we will next see each other at the moment, so it was great to be able to catch up for a few hours over lunch together, so I'm very grateful that she stopped by – and good luck, Helen!
We have a quiet weekend ahead, which I'm more than happy about, as we prepare to welcome our two French exchange children next week, who will then be with us for nine days, so we have lots of fun days out planned.
I hope that you have a great weekend, whatever you are doing.