Well, eventually, today, it actually feels like summer may have arrived. It is warm and sunny and beautiful, which improves everyone's mood – hurrah! So I thought that it was high time that I did a post about our lovely garden, which we have been appreciating so much this year – and which I may have referred to once or twice in my "Happy Friday" posts!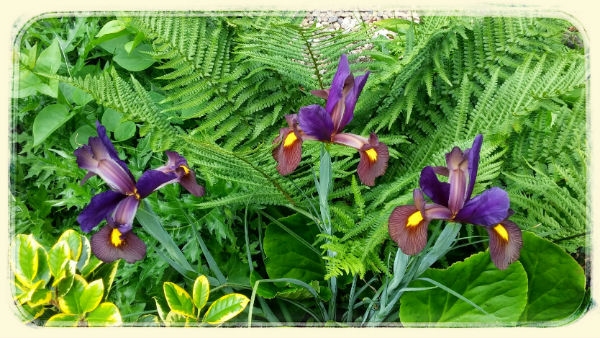 The garden that we have inherited is absolutely beautiful. As with most 1930s houses, the plot size is really quite generous – even more so with our house and the one next door, as apparently, during the Second World War, when there was a farm adjacent, the farmer saw the women from the houses outside, watching over their children whilst knitting supplies for the troops, and decided to show his gratitude for their war contribution by giving them a little more land at the end of the garden. This may be just a lovely story, but the aerial view plan of the area certainly backs this up.
We are very lucky that the previous owners of the house were extremely keen gardeners. They were a lovely elderly couple, both retired, who used to spend hours each day tending it – it seems that she did the designing, choosing the plants, flowers, shrubs and bushes,  and the light planting work, while he did more of the heavier manual work – building the twisting path up the centre of the lawn, creating the flower beds and borders wherever she wanted – a real team effort. And they did a fantastic job of planning it out, so that there is continuously a riot of colourful flowers – no sooner has one variety withered, then a different beautiful bloom appears.
We are unable to spend as much time as they did actually working on the garden, but we are managing to keep on top of it by regularly weeding, mowing, strimming and trimming. We have done some larger jobs – we had some huge leylandii trees removed from the dark far end, which has brightened that section up enormously, and we then re-gravelled it and re-painted the fences, so that it has become our fire pit area. The main thing though, is that we (and the dogs!) are absolutely loving it! Although it hasn't been warm enough to eat al fresco very much during the day yet this year, we have certainly made the most of the evenings, sitting around the fire pit on our bean bags, cooking fish over the fire, toasting marshmallows, and just enjoying being outdoors until late at night, with the fairy lights twinkling in the trees. Just beautiful.