Some days, you just know, are going to stick in your memory as so special and such fun – and last Saturday was definitely one of those!
The day started with D taking G and B to the gym, so I had the house to myself to do the fourth day of Adriene Mishler's 30 day yoga challenge. I am still really enjoying this and it's a lovely start to the day. Saying that, the sixth day, yesterday, which focussed on abs, was particularly challenging – especially today, when laughing or coughing cause great discomfort – to say the least!
This was followed by the most lovely champagne breakfast – the height of luxury, decadence and yumminess! I had bought this as a gift for one of my closest friends for her 40th birthday, which was a couple of weeks ago. She bought me a spa day for the two of us for mine last year, so I decided to repay the favour by treating us both to breakfast at the brasserie, which is situated on the balcony at the rear of Bennetts iconic department store, in the heart of the Cathedral Quarter on Irongate in Derby. You get a three course breakfast, with a choice of three or four options for each course, with plentiful tea/coffee/juice and, of course, champagne. I opted for a starter which I had tried before – granola with dried fruit and yogurt, which is delicious, then went for the full English breakfast. Having only recently started eating meat again after not doing so for 18 months, it was the first time in a long while that I had sampled a full English, and it did not disappoint. It included bacon, sausages, black pudding, tomatoes, choice of egg, fried bread, mushrooms, hash browns and toast, and everything was cooked to perfection. This was then followed – after a slight pause, as we were both so full – by apple parfait, which is a lovely light end to the meal. It also has to be said that the service was absolutely fantastic. It is my fourth visit for a champagne breakfast there and I have always been served by the same waiter, who is incredibly polite, attentive and has a fantastic memory, remembering our orders without writing anything down. So we both had a great few hours together, catching up on each other's news and enjoying a real treat.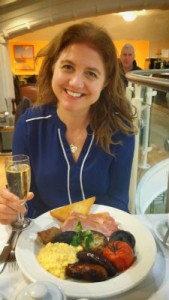 As a complete contrast to this, D and I then had a rare night out – at The Lancashire Hotpots! If you don't know them (and you really should –they are absolutely hilarious and so entertaining!), they are a comedy folk band from St Helens, recording songs about Lancashire and British culture, using plenty of Lancashire dialect. We came across them a couple of years ago and just love them (being Lancastrians ourselves) but it is the first time we have seen them live. It really was a great night out for us – the kind of thing that we never normally do – but we had the best time. The venue was The Flowerpot in Derby, a pub with a great performance area in the back. They were a little later starting than we expected, but when they did, it was two full hours of pure fun – we haven't sung so loudly, danced so much and got so hot on a night out in, what, maybe 20 years?!? We are still talking about it now – surely the sign of a fantastic night?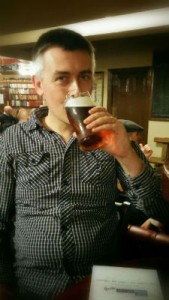 Fortunately, especially with the clock change, Sunday was a quieter day, but it really was such a wonderful Saturday – one which I will remember for a long time.