Well, I didn't quite manage to come up with a list of ten things that had made me happy last week – one of those weeks, you know? So here's a few of the highlights from the past fortnight:
B making it home on the train on his own from school! Three trains were involved in the journey, but it all went swimmingly well and he arrived at his final destination looking very grown up and pleased with himself.
D and I had a great night out a couple of weeks ago at The Lancashire Hotpots gig in Derby. Just like last year, it was such a fun night, with lots of singing and dancing along with the hilarious songs.
I then had a lovely Mother's Day – it was so good that we could all be together for it. One of the highlights was the huge brunch which was cooked for me – so delicious!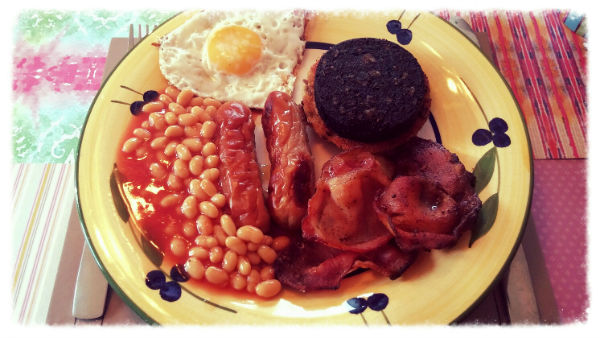 4. G was out at a friend's party last Friday after school until about 9.30pm, so D and I took the opportunity to have a lovely Caribbean meal (G isn't keen on spicy food so we tend to avoid it when she's eating with us) followed by a few episodes of The Good Wife. It was nice to have some time for just the two of us without work interfering, as it usually does during the week.
5. We then had an early start the next day, as it was B's Parents Morning at school, so we drove up to Lancaster for that. It was a really good morning – apart from suggesting that he puts more effort into chemistry and physics, the reports were so positive and lovely, and it was great to meet his teachers, who we obviously don't usually see.
6. The weather this week definitely deserves a mention! It has felt so much more spring-like and we have seen far more of the sun, so this has certainly cheered up the dog walks.
7. I had a great night out on Tuesday with two really good friends, first eating in Zizzi, before then going to watch a performance of "Look Back in Anger" at Derby Theatre. Honestly, I have never seen a poor production at this theatre, and this was no exception – the performances were truly amazing, and the direction by Sarah Brigham, was, as always, fantastic – very gritty, intense and thought-provoking.
8. I've devoured more great books over the past couple of weeks – I seem slightly obsessed with psychological thrillers at the moment – so I have loved Samantha Hayes' You belong To Me, Sinead Crowley's Can anybody Help Me? and am currently reading Sophie Hannah's Kind of Cruel.
9. I have been thankful for the fact that my work allows me to be there to look after the children if they are unwell, as G has been for the past two days. She has had a temperature, with very sore head, throat and ears, and has not been able to go to school, so I'm grateful to be able to stay at home with her, providing cuddles, drinks and lots of soup.
10.Short hair! I decided this week, after deliberating for a while, to have my hair cut short, and I am really pleased with it. I haven't had it this length for a very long time but I just felt ready for a change.
So, we are hoping that G starts to feel much better soon, as we have a family weekend ahead celebrating B's birthday, which is on Monday. He is coming home tonight, then he and G are doing the "Closer to the Edge" activity in Markeaton Park tomorrow, followed by a meal at B's choice of restaurant, so it should be fun.
Have a great weekend, everyone!