As always, I'm offering a very warm welcome to Friday! It's almost the weekend again, so let's hope that it's one full of sunshine, eating outdoors, relaxation and fun! In the meantime, here's a brief round up of all that's made me happy this week:
1. With G leaving for France last Saturday night, we celebrated Father's Day a day early, with our inspired gift for D – a waffle maker! He's been saying for months that we should get one, but he would never have got round to it himself, so was really pleased with it. And the verdict on the waffles? Amazing! They are so, so much lighter and fluffier than shop-bought ones, so between us we managed to demolish quite a pile!
2. We again had a lovely evening outside last Sunday, barbecuing some delicious fish on the fire pit – trout and herring – which we then ate with sour dough bread and olives, sundried tomatoes and peppers. It really was heaven on a plate.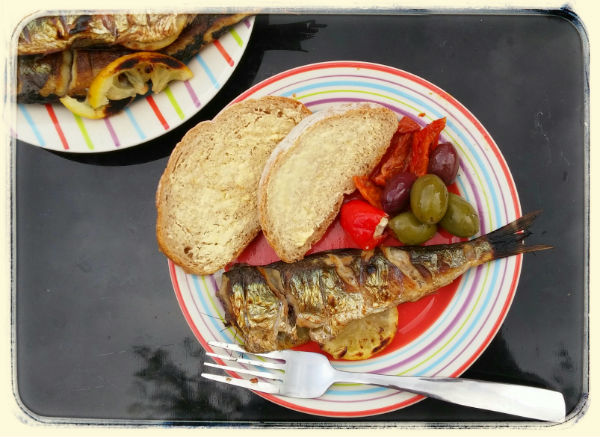 3. We also tried out a new long cocktail drink last weekend – a Gin Daisy (I obviously only wanted to try it because it has "Daisy" in the name!). It is made with grenadine, orange juice, lemon juice, gin and soda water, and is so tasty. It looked as though it would be very sweet, but it wasn't at all – it just works really well, and was a nice change from our usual gin and tonic.
4. It's a very rare occurrence for me to have a bath, but it so happened that, on Monday evening, I had nothing that desperately needed doing and D was working, so I treated myself to a long soak in my new mango and papaya shower gel/bubble bath, and it was absolutely lovely. I really should make the effort to have a bath more often, as it is such a simple little treat – and is a great opportunity to catch up with some reading or Netflix watching.
5. G and I went with friends to see a great production of Romeo and Juliet at Derby Theatre last Friday, from Shakespeare at the Tobacco Factory. It was a far more contemporary adaptation of the timeless masterpiece than I have previously seen, yet it retained the language and almost all of the narrative of the original, a combination which worked very well, and gave a very "young" feel to it. All of the acting performances were outstanding, and the whole production was very exciting and vibrant.
6. Cherries! I bought some delicious fresh cherries this week – and they are so good! I seem to have consumed rather a lot whilst writing this post, by the looks of it.
7. Ginger and Lemongrass Cordial from Bottlegreen. D and I have drunk a lot of this this past week, and it is so yummy – and zingy! A lovely alternative to the copious amounts of tea that we usually consume.
8. We seem to have eventually found a new Netflix series to get stuck into – Luther. D has apparently seen one or two of them but I haven't at all, so I'm really enjoying it so far.
9. The smell of the puppies when they came back from the groomers yesterday. They don't just look super-smart after their summer trims but they smell incredible. I'm not sure what shampoo she uses, but it's good!
10. As with B in April, one thing that I know will make me happy but hasn't happened yet is G returning home from France. We've spoken to her a couple of times and know that she's fine and has been having a great time, but it will be lovely to have her home again – at midnight tonight!