Only one week to go until the big "ho ho ho"! Hurrah! (Have I mentioned just how much I love Christmas??) Anyway, consequently this has been a pretty busy week but with some lovely moments. Here are the highlights:
Friday evening saw us heading off to Derby cathedral ( a building which I absolutely love) for a Christmas brass band concert performed by Derwent Brass and the Derby Central Salvation Army Band. As you would expect, it was a truly lovely evening – plenty of rousing festive music with the opportunity to join in with some of the carols – sooo Christmassy!
I eventually got around to writing our Christmas cards on Saturday – not my favourite festive activity but certainly helped this year by listening to Christmas music and drinking mulled wine at the same time.
On Sunday, D, G and I went to the local Christingle service, which was really nice (G particularly enjoyed the fact that the Christingles were decorated with just sweets rather than raisins!) – and we even managed to come away with a spare Christingle for B.
I seem to have had some lovely, but very wet, walks with the dogs this week. Honey seems to have had lots of energy recently, so I've given her plenty of time off her lead running crazily around in the water-logged field.
Catching up with friends has been a real highlight this week. Christmas gives us the great opportunity to meet up to swap gifts, which I did with different friends on Tuesday and Thursday this week – a real treat to spend time with them.
Honey has been particularly cute this week! I bought her a new Christmas toy which I just happened to see in passing on Tuesday, and she absolutely loves it! Whenever D comes home from work or downstairs in the morning, she rushes to get it and run around him with it, as if she is showing it to him – adorable!
A quick trip into TK Maxx on Tuesday proved very fruitful – I came away with a very large, red, Christmas bowl – exactly what I had been looking for to put chocolates into – and two fabulous-looking candlesticks for the table. These will be lovely adorned with some holly and ivy for next week, but also are pretty stunning on their own all year round, so I was very happy with my purchases.
Christmas baking! I love this time of year for providing an excuse for baking – not that I normally need one! So this week I have made shortbread and cinnamon shortbread Christmas biscuits and marzipan crumble-topped mince pies – yum!
Yesterday marked the beginning of the Christmas holidays for us, as I went up to collect B from school. The day worked out really well – I was able to take a Christmas posy up to my parents' grave, see a friend for tea and a chat, and then drive to Lancaster with time to walk the dogs before picking up B. We had a great return journey and were home by 4.30pm – lovely to have him back home!
So today holds the final highlight of the week – G finishing school for Christmas! Then we can really start getting festive together, as we have lots of lovely things planned for the next week.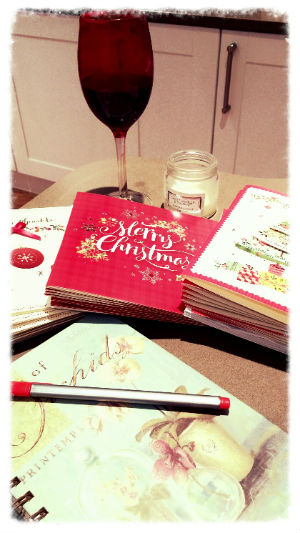 I hope that you all have a lovely, and not too hectic, final weekend before Christmas!