16th June – the day we have been waiting for, as today G finishes her GCSEs! The whole exam period has been remarkably stress-free though, it has to be said – she has just got on with it extremely well and with them being spread over a few weeks, has had plenty of time to revise in between each exam. But it is still very exciting- for her especially, of course, but also for all of us – that they are over! (Well, they will be by 10am!)
Anyway, here are a few more highlights of my week:
We went to a great Robbie Williams tribute night on Saturday at Branston Golf and Country Club, which was a good night out – we had a nice three course meal, followed by the act, Dan Budd, who is a very good Robbie (and his Gary Barlow impression is uncanny!).2. We then spent a wonderful afternoon at my sister and brother-in-law's house, celebrating the upcoming wedding of my niece with the most beautiful afternoon tea. The table was so pretty, with vintage China and roses from the garden, and the food was fabulous, especially the delicious array of cakes. It was a lovely afternoon, and a great way to celebrate.3. Over a lot of serious over-indulging at the afternoon tea, healthy eating had to resume this week – this has been my favourite breakfast of the week, which is a great start to the day – Greek yogurt with honey, homemade nutty cinnamon granola, coconut flakes and blueberries.4. Tuesday evening saw me heading out for a meal and theatre trip with my lovely friends, Hettie and Lindsey. We had a very tasty Mexican meal, then watched "A Judgement in Stone". We have seen such a huge range of productions at Derby Theatre – comedy, musicals, plays – both "home-grown" and nationally touring – and nothing has ever disappointed. However, this, despite being a Bill Kenwright production on a large national tour, came the closest. The first half was pretty good and we were sufficiently intrigued, but the actual denouement really was rather a let down, with the final lines in the play being quite ridiculous. This did not detract from it being a great night out though with the nicest friends.
5. I have decided that I need to get a rose for the garden, as I absolutely love them and seem to have come across some beautiful specimens this week, from my sister's very impressive rose garden to ones growing and blooming wonderfully on the wall of the charity shop that I volunteer in, to the "doorway of dreams" that I spotted whilst out and about this week. Stunning.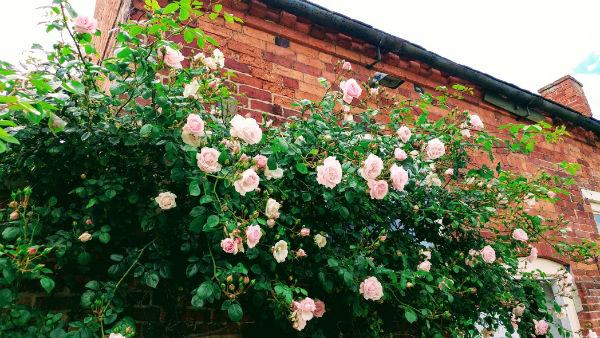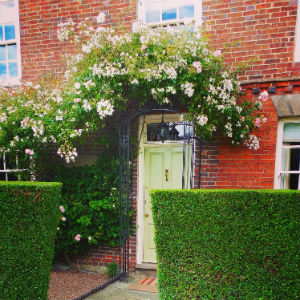 6. Some simple everyday things have made me happy this week, such as the new nail varnish I bought last Friday – lovely mint colour – and my amazing peonies, which have graced the sitting room this week. Sadly they have now died, so hopefully I can buy more whilst out shopping today.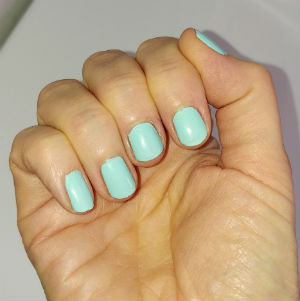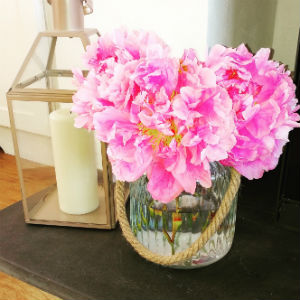 7. I am very excited to welcome my first customers into my new dog grooming studio next week – I have three Lhasa apsos booked in, so can't wait to open my doors for business at last! (Hopefully, today really will be the workmen's last day!)
8. Just in time for the end of exams and the promised hot, sunny weather, we eventually took delivery of our hot tub yesterday! It came early in the morning and so was ready to use later in the day (not soon enough for G's liking, who kept checking the temperature at VERY regular intervals to see if it was ready!) but we had two sessions in it – G and I tried it out as soon as it (almost!) hit the right temperature, and then again when D came home – our first "double bubble" night – prosecco in the hot tub. I can recommend it!
9. We have been eating a very low sugar diet for quite a while now, and have found some really lovely recipe books over the past few months with great sugar-free recipes in – Fearne Cotton's and Clean Eating Alice's are particular favourites – but on Saturday, at our lovely little library, I found two of Davina McCall's sugar-free cookbooks, which look fabulous, so I am looking forward to trying some of her recipes over the next few days.
10. Well, we are hoping for a really fantastic weekend! We have quite a few "chores" to do, which mainly involve cleaning and tidying everywhere after the builders leave, and getting my studio fully ready to open next week, but we are also going to make sure that we fit in some fun things. B comes home tonight, so we are going straight out for a meal to celebrate the end of G's exams, then we are hoping that the forecast weather does arrive, so that we can spend lots of time outside, especially on our new garden furniture (once the screws arrive tomorrow – yesterday the furniture arrived but with no fastenings or instructions!) and in the hot tub. Lovely!!
Have a great weekend everyone!