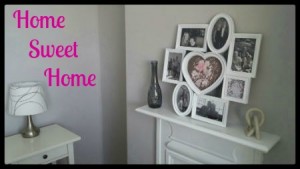 As soon as we spotted our house online just over a year ago and browsed the photos and the layout, we got an immediate positive feeling about the property. D was unable to view it that day, but I saw it with the children, spoke to D about it, and he called the agent immediately and put in an offer. Fortunately, when we viewed it together the next day, he loved it too! It's hard to put into words what is so lovely about it. It is nothing like any other house we have lived in – we've had a Victorian terraced house when we first got married, then a traditional, squat, stone, Lancashire cottage, then (as the children came along) we felt the modern, four-bedroomed house was the most suitable, then relocation meant that we rented a variety of houses for a few years. Falling in love with a 1930s semi-detached property last year was definitely not what we expected, but love it we did from day one – some houses just have such a happy feel to them, don't they, and we knew that this was the house for us.
One of the many reasons we liked the house was that we could see the potential of it. Yes, it was very dated (although in very good condition) due to the fact that a lovely 80-odd year old couple had lived in it for 25 years, so had very different taste from us – so much dark wood everywhere! But, being a 1930s house, the plot size is fantastic (even better than the neighbouring houses, due to the local farmer rewarding the women's war effort by extending the garden apparently – love a bit of history!), so our immediate thought was that we could add a two storey extension. However, within a few weeks of living here last summer, we decided that this really wasn't necessary. We had down-sized and de-cluttered to fit into the house, and found that we did so very comfortably, so there was absolutely no need to add more space. And, to be honest, D and I do have a bit of a "thing" about people buying unnecessarily large houses! So, once this decision was made, we saw little point in delaying the modernisation and decoration, and making it truly "ours". We first transformed the hallway, stairs and landing, and B's room (which is very "compact"), then we had the kitchen ripped out and replaced. The next project was the sitting room, having cupboards and shelves built into the alcoves, the wooden fireplace and gas fire replaced with a wood burner and a wooden floor installed. We then had a break for Christmas, and started again a little while ago, decorating G's room, our bedroom and the dining room. Two of these projects are now complete – the dining room floor is being fitted within the next two weeks, so I may post about this then – but for now, here is how our newly made-over bedroom looks.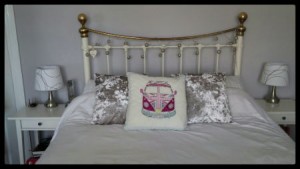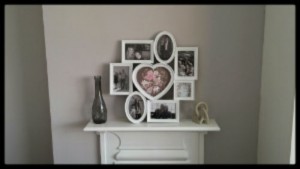 "No one realises how beautiful it is to travel until he comes home and rests his head on his old, familiar pillow" – Lin Yutang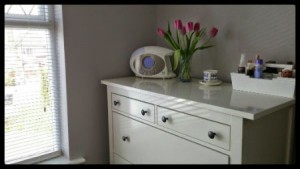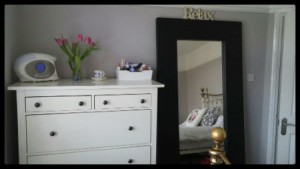 After stripping off the anaglypta wallpaper (there was also A LOT of this in the house!), we had the walls re-plastered, as they weren't in good condition at all. We then painted the dark wood window frame and all the other woodwork brilliant white ( I do seem to have lived with a white gloss-laden paintbrush in my hand for the past ten months!), and then opted for Cloud Burst (grey!) for the walls. We had had the carpet replaced in the autumn, along with a few others, as the one in our bedroom when we moved in was extremely thin but hardwearing – ideal for an office perhaps, but not great for a bedroom – so this was already done. We then replaced the dark wood curtain pole and deep purple curtains with a white wooden blind, which in itself makes the room feel so much larger and brighter. And that was it, apart from some new lampshades and a fabulous new blanket for the bed! But we are so happy with it! It feels like we are in a swanky boutique hotel, and despite being predominantly grey as opposed to white, feels so much lighter and more cheerful. We absolutely love the transformation. What do you think?