Well, this has been a rather mixed week – lots of positives, but also a few days of having too much on my mind, which has made it more testing than perhaps it should have been. But it's "Happy Friday", so I'm going to focus on some of the things which have made me smile:
D and I had a lovely meal out at The Book Café in Derby last Friday evening. It is one of my favourite places to pop in for a drink during the daytime, but we had not previously visited at night. But it was great! We enjoyed a very nice cocktail when we first arrived – a Book Bellini for me – and then had a delicious meal, accompanied by a rather lovely bottle of Chardonnay. The atmosphere was perfect – there was a good mix of people there and live music being performed throughout the evening, which we really enjoyed, so we will definitely be returning soon.
2. My sleepy, cuddly "bookends"! Just how adorable?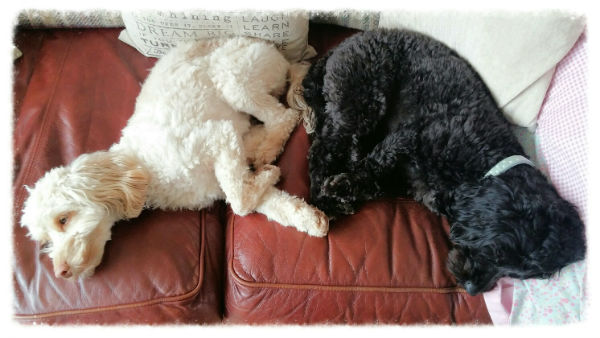 3. Saturday night, being B's last night at home before returning to school, became "family night", so we treated ourselves to a Chinese takeaway, whilst watching a couple of our favourite "family" TV shows – Ant and Dec's Saturday Night Takeaway and Death in Paradise.
4. B was good enough to make his famous pizza for us before leaving on Sunday – and it really was delicious! A wonderful going away gift!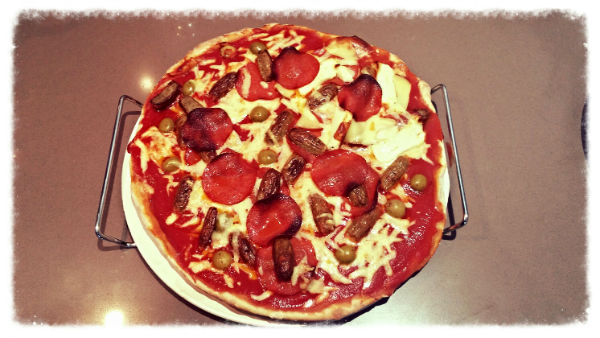 5. Tuesday turned out to be a very productive day, as I decided to paint the sitting room. When we had the room renovated about 18 months ago, we painted the room a warm, mellow yellow, which I originally loved, as it was so light and bright during the day, but really cosy in the evenings, when we have the woodburner lit. However, I decided that I'd like it to look a little more up to date and fresh, so we went for a colour best described as "greige" – a mixture, obviously, of grey and beige. We are really happy with it – I managed to paint two coats on the whole room whilst G was at school, so it wasn't at all disruptive, and it has freshened the room up well.
Before –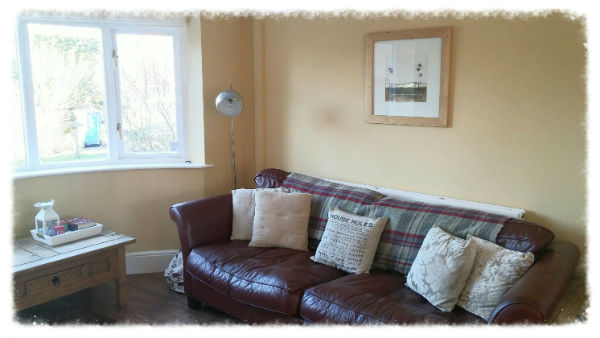 After –
6. To add the finishing touches to the sitting room, I managed to find both a canvas print for the main wall and some new cushions, to tie the colours together, which I'm really happy with.
7. All my mornings this week have begun in the same way – with a cup of tea and a great book in bed. This week's fabulous read has been Until You're Mine, by Samantha Hayes. I love this as a way to start the day – although it does mean that my morning exercise sessions have been completely forgotten!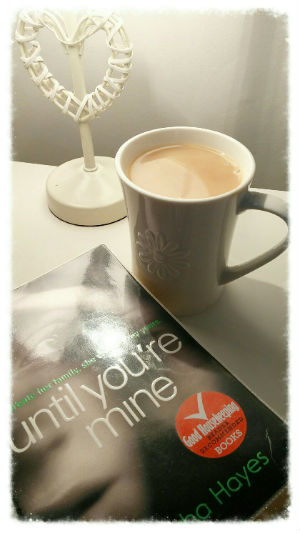 8. My next one is really quite mixed. On the one hand, I am so grateful that I have a husband who works so hard, and I appreciate that so much. However, the fact that he has been working ridiculously hard – one night getting home at past 1 o'clock in the morning and then leaving again at 6.30am, cannot be sustained, and does worry me.
9. Hurrah for some proper winter weather at last this week! We have had some extremely cold but beautiful, sunny, frosty mornings,, which I just love, so my dog walks have been so much more pleasant.
10. The final one for this week is that B has been so much more communicative than normal! We usually hardly hear from him whilst he is away, but we have had calls every night this week, which has been lovely.
So, that's it for this week. It's felt like a pretty long one, so we are all looking forward to a nice, relaxing weekend.
I hope that you have a great one, whatever you have planned.