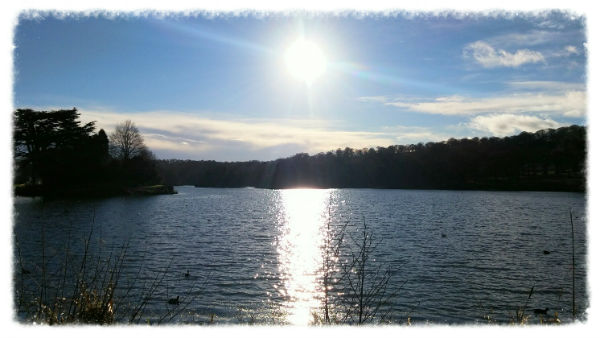 It eventually felt as though a proper winter's day had arrived on Sunday, rather than the dull, grey, wet weather we have endured for the past two months, so we decided to make the most of it and head out for a trip to Trentham Gardens. This was also partly spurred on by the fact that we had some Tesco Days Out vouchers which expire at the end of the month and can be used at Trentham, but it also transpired that the entrance price is currently reduced until mid-February, so it is a really good time to visit. As many, many people evidently thought, as it was really busy (despite how it looks in these photos below)!
We had a lovely walk around the lake, a route which takes you beside the River Trent, past the bird hide, through the cascading weir and along a selection of woodland trails. It is a very dog friendly place to visit, which, of course, is exactly what we look for, and there were lots of different things to spot along the way – all sorts of statues and sculptures constructed out of various materials – wicker, metal, wood, etc.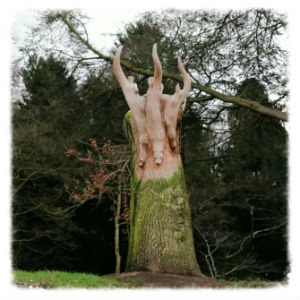 There are plenty of different areas to visit once inside the gardens, including the great adventure playground if you have younger children with you, but we stuck to the lakeside walk, which happily concluded near to the Italian Garden Tearoom, which enjoys beautiful panoramic views of the lake and garden. We sat outside, as we had the dogs with us and sitting in the sun was actually really pleasant by that point, and had a spot of lunch – pots of Earl Grey and bacon ciabattas for me and D, whilst G plumped for the Staffordshire oatcakes with bacon and cheese.
We then headed out, with a brief potter around the various shops which make up the Trentham Shopping Village, returning home to get on with the rest of the weekend.
It was a really lovely wintry trip – one which we will definitely be repeating.