Thank goodness that this has been a "short" week and is now almost over. It has been a really tough week for so many reasons, so I've had to dig very deep to come up with my Happy Friday list. Literally just about everything that could have gone wrong has done – and more besides – so here's hoping for a much better weekend.
Anyway, here's what I managed to come up with which have made me happy this week –
1. We had a lovely weekend in Norfolk for the Bank holiday – and the weather was very kind to us!
2. One thing that D and I did which we haven't done before is go out for a long walk by ourselves, leaving G and B at home with their revision. Although it is always lovely to go out as a family, of course, it also felt very special that it was just the two of us – and the three dogs, obviously! We did one of our favourite walks around Burnham Overy Staithe and the sun shone almost all the way round.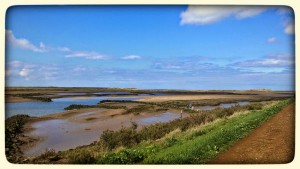 3. Having the time to read a magazine, cover to cover – what bliss!
4. Our fire pit arriving! We have everything crossed that the weather stays fine this weekend so that we can finish off the area of the garden where this is going to go, then we can try it out.
5. My (or should I say "our"?) new workstation. We decided a couple of weeks ago to put an area on our landing to better use than housing a storage hamper, and have instead removed this and installed a small desk and a new computer. This is for both me and B to use, and we really love it.
6. Sleepy puppies! We took them out for such long walks at the weekend that our evenings were much more peaceful than usual, as they were absolutely exhausted and just slept. Too cute!
7. The gorgeous spring lambs which we came across whilst completing the treasure trail – they were so beautiful and very inquisitive as to what we were up to as we searched for a clue.
8. Flowers in the house. We currently have lots of fresh spring flowers around – mainly daffodils and tulips – which I absolutely love.
9. Chips at the village pub. We popped in on Sunday after our long walk for a drink and some chips and they were the best! They still had the skins on, and there were plenty of small crunchy bits as well as the larger ones, so they went down very well.
10. Planning my birthday meal. It's my birthday next week and I'm having a small dinner party the evening before – a girls night – which I'm really looking forward to, but one of the parts which I really enjoy, as well as the night itself, is the planning. The menu has now been decided!