Hi there – I'm back! I was asked a few times about the lack of Happy Friday post last week, but it honestly was simply due to a lack of inspiration and photo opportunities – not in any way a reflection of it being a bad week, just a very "ordinary" one. However, I've had no problem coming up with my "happy list" this week!
1. G's birthday party last Friday evening. She invited six friends around after school, and, after getting changed and eating cupcakes, they went shopping for a couple of hours in Intu, Derby, where we then met them for a meal at TGI Fridays – sitting on separate tables, of course! The staff there were fantastic though, keeping us up to date on the progress of the girls' meal, so that we could take our time accordingly, and really looking after them well. We then took the girls home for a quick tie-dye activity, before three of them had to leave and the remaining three stayed for a sleepover. I have to say that I love the fact that parties are now so much easier and low maintenance -they very much looked after themselves, and we didn't hear a peep from them all night, so it was all very successful -and G has some lovely friends!
2. This was then followed by a lovely day on Saturday, which saw us heading up to Lancashire. We collected B from school and then went for a delicious lunch in Lancaster, before heading over to Lytham to visit D's parents and gran, who had celebrated her 98th birthday the day before. We did try to see the Blackpool Illuminations on the way back to Lancaster to drop B off again, but failed in this mission, as the traffic was at a complete standstill – not moving an inch – so I'm not sure what the issue was there.
3. Sunday morning was a lovely, chilled affair – my favourite kind – which gave me the chance to make butternut soup and homemade bread rolls – so yummy!
4. G has been on half term this week (and next, lucky thing!) so it has meant that a couple of our mornings have been much more relaxed and slower, which has been lovely.
5. I had a wonderful evening on Monday, when I went out for a pizza in Belper with my great friend, Hettie. It was a while since we had had a proper catch up, as our outings recently have involved cinema and theatre trips, which are lovely but don't give much (enough!) opportunity for chatting. We certainly made up for this on Monday – we hardly drew breath in almost four hours we were together – it was fabulous! (And the pizza was pretty good too!)
6. The pooches have been particularly cute this week – they were trimmed last week, so are all velvety and sweet-smelling, but they just keep cuddling up together, which is the sweetest thing!
7. It was G's birthday on Wednesday, and we had a lovely girly day. This obviously involved shopping, as she had received some money and vouchers as gifts, so she had lots of fun spending them, on both clothes and things for her room, which is in the process of being decorated.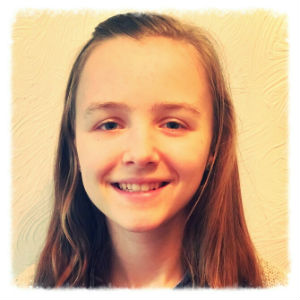 8. G and I then had a great trip to the theatre on the evening of her birthday. D was supposed to be with us, but sadly there was an accident on his way home from Stoke, so the journey took him 4 and a half hours, hence he missed the show completely. It was a great amateur performance of "Me and My Girl" at Derby Theatre, and it was lots of fun – especially seeing G cringe during the audience participation (which did only involve people clapping along with the music!).
9. As you can see from the photos, we had an additional houseguest at the weekend (along with G's party guests) in the form of a beautiful racing pigeon. Lottie and Honey found it hiding in the woodpile when they went outside after we returned home from TGI Fridays, so D fetched it in, and found that it appeared to have been injured several days before, possibly on a telegraph wire. So we made it a temporary home in a cardboard box, and gave it water and corn, which seemed to help it perk up a little. On Saturday morning, D then managed to locate its owner, thanks to the ID ring on its leg and a website of all registered racing pigeons, and its grateful owner came to retrieve it on Sunday.
10. Well, the M6 beckons for me and G today, as we happily go to collect B for the half term holiday. I think that we are all very much looking forward to being together again for 9 days, so here's hoping it's kind to us!
Have a great weekend, everyone!