Well, we reach the end of another nice week, so here's a little round up of some of the things that have made me smile over the past few days: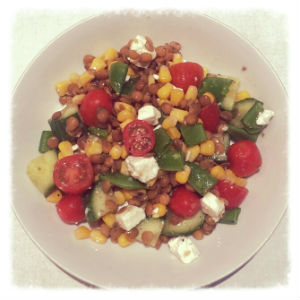 A variety of food! This seems like such a simple thing, but it is one that most of us in this country take for granted. At the moment, I'm trying to eat healthily during the week, so I loved the lentil-based salad I had on Friday, but then weekends are for some treats! Chocolate brioche for breakfast anyone?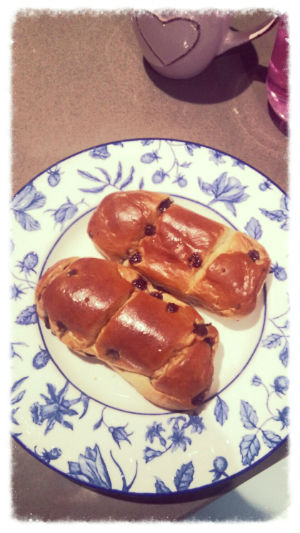 2. G has developed a sudden interest in baking this week, and has made two cakes over the past few days – the chocolate chip one below at the weekend, then a red velvet one on Tuesday – and they have been enjoyed by all!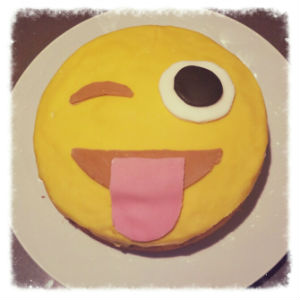 3. I had a lovely day out in London on Sunday, which was a real treat. Since my friend returned to the UK last year after several years of living in Europe, we had been talking of meeting up in the capital for the day, but the occasion of her birthday prompted us into action! We had such a lovely day – my trains were on time, so we met up as planned, and filled the day by sitting in cafes drinking tea and catching up, with a great theatre trip in the middle. As it turned out to be so easy to meet up, I'm sure that we'll be doing it again!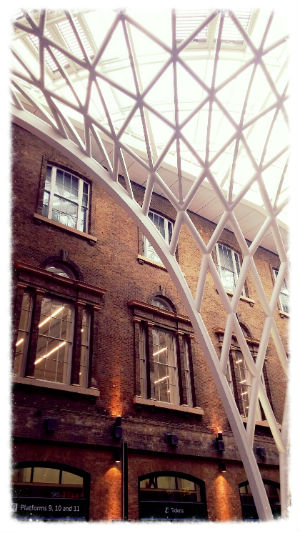 4. As I mentioned, we went to the theatre in the afternoon, at Kings Cross Theatre, to see The Railway Children (http://railwaychildrenlondon.com/). It was a fantastic production, so cleverly and uniquely performed and directed, with fabulous performances from each and every one of the cast – including the real steam train, which was very impressive! A lovely way to spend a Sunday afternoon, without a doubt!
5. So, bizarre as this may sound, another thing that has made me happy this week is cancelling our summer holiday! We had booked to stay in a beautiful, luxurious gite in the south of France in July, but, for a number of reasons (mainly the costs, which were adding up with expensive flights, car hire, food, etc., and the situation of being left with no one to look after the dogs after we were very badly let down by our dog-sitters), we just didn't feel as good about it as we should have done, so decided to cancel it. Strangely, when I then went to remove it from our online calendars, which we use for everything we have planned, I spotted that I hadn't even put it in the calendar, which maybe says a lot? Anyway, as soon as we had made the decision, and also decided that we would go to our beloved Norfolk instead, I felt so much happier!
6. The added bonus of cancelling our holiday to France means that we can now go to Carfest! Well, D and I can go, as the children will be in France staying with their exchange family, but again, this seems a little like fate, as D had bought the tickets for Carfest North after not being able to buy any for Carfest South, where we have been for the past four years, not realising that we would be in France that weekend. Hurrah!
7. An amazing thing that happened this week, which has made me so happy, is that I have re-established contact with an old university friend, whom I haven't seen for about 9 years and who is now based, with her beautiful family, in South Sudan. I was so pleased to find her via her blog, which I used to contact her, and then received the most lovely email back. It's so good to find someone from your past again, isn't it? And I will make sure we don't lose touch this time!
8. I know that this one features every now and then, but you can't beat finding a good book to raise your spirits, and I have read two this week (largely thanks to my train journeys to and from London!). The first, which I read for my book club, was The Tea Planter's Wife, by Dinah Jefferies, which I really loved. The descriptive writing in it was so vivid, and I found the story was certainly intriguing enough to make me want to read more – and I didn't at all predict the ending, unlike some members of my book club! Secondly, I am reading The Ice Twins by S. K. Tremayne. I have not quite finished this but am enjoying it so much- it's definitely one of the most unputdownable books I've read in a long time! The intrigue and cliffhangers at the end of almost every chapter are fantastic, and I can't wait to find out the ending.
9. My de-cluttering continues, so I was very pleased to take 12 bags of clothes, shoes and bags to the recycling centre yesterday. It's so great to feel that everything is now so much more organised. I still have some areas to tackle, but I'm getting there. (If anyone knows of any school/organisation/family that would benefit from a carrier bag  of pencil crayons, felt tips, pens and pencils, please do let me know though, as I don't want to just throw them away.)
10. Last but not least, the children finish for half term today, which is lovely. It's only been a very short half term, but we are all looking forward to B coming home today and us having a nice week together.
Have a great weekend  everyone!